Mexicans Abroad 2/25-2/26
February 27th, 2012 | by: Andrea |

Comments Off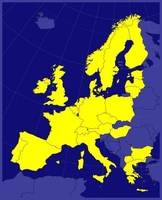 Chicharito helped his team move on through the Europa League. Check out what the other Mexicans abroad did this week!
SPAIN
Pablo Barrera(Real Zaragoza)- Barrera played Monday, entering in the 59th minute during the 0-2 loss to Real Betis. He was not called for the 1-5 loss to Malaga.
Hector Moreno (Espanyol) – Moreno played all 90 minutes during the 1-2 loss to Levante.
Taufic Guarch(Espanyol B)- Guarch started and played 61 minutes in the 2-1 win against Manlleu.
Andres Guardado (Deportivo la Coruña)- Guardado played all 90 minutes in the 0-1 loss to Sabadell. He received a yellow card. Despite the loss, Deportivo remain on top of the table in the Segunda.
Jonathan Dos Santos (Barcelona )- Dos Santos did not play during Barcelona B's 0-1 loss to Hercules due to his two yellow cards in a game last week.
Carlos Vela (Real Sociedad) – Vela played 79 minutes and gave an assist during his team's 1-0 win against Mallorca.
Anibal Zurdo(Guadalajara)- Zurdo played all 90 minutes in the 2-0 loss to Villarreal B.
ENGLAND
Giovani Dos Santos (Tottenham)- Dos Santos was not called for the 5-2 loss to Arsenal.
Javier 'Chicharito' Hernandez (Manchester United)-'Chicharito' played all 90 minutes in the 1-2 loss to Ajax. He scored United's goal and helped them advance on aggregate to the next stage of the Europa League. He played 63 minutes in the 2-1 win against Norwich.
Antonio Pedroza(Crystal Palace)- Was not called for the game against West Ham.
FRANCE
Guillermo Ochoa(Ajaccio)- Ochoa played all 90 minutes in Ajaccio's 2-1 win against Dijon. They remain out of the relegation zone.
GERMANY
Francisco 'Maza' Rodriguez (Stuttgart) - Rodriguez entered in the 66th minute during the 4-1 win against Freiburg.
SCOTLAND
Efrain Juarez(Celtic)- Juarez was not called for the 1-0 win against Motherwell.
PORTUGAL
Edson Rivera(Braga)- Rivera has been called for the upcoming game against Vitoria Guimaraes.
GREECE
Nery Castillo (Aris)- Castillo did not play in a friendly against Litex due to an injury sustained in last week's game.
NETHERLANDS
Ulises Davila(Vitesse)- Davila was not called for the first team's 1-0 loss to Waalwijk. However, he has an opportunity to participate with the reserves against Heerenveen.
CROATIA
Jose Delgadillo(HNK Rijeka) - No longer shows up on the team's official page.
Finland
Jose Manuel Rivera- Pre-seaon with ROPS. He played the second half in a friendly loss to Alta.
And remember to follow us on Twitter and 'Like' us on Facebook!
You can also follow me on Twitter!
Subscribe

Mexico World Cup Team Blog RSS Feed

Share
Comments are closed