Mexicans In Europe 3/7-8/09
March 9th, 2009 | by: Andrea |

View Comments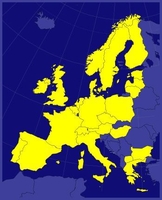 More activity for those plying their trade abroad as they try to get noticed, and a spectacular finish.
Spain

Rafael Marquez(Barcelona)- Marquez played a good game as Barcelona beat Athletic Bilbao 2-0 and gained ground on their lead to remain 1st in the La Liga table.

Guillermo Franco(Villarreal)-Guillermo Franco played 27 minutes against Espanyol as the Yellow Submarine beat them 1-0. For his efforts after coming on at the 63rd minute, he earned a yellow card.

Andres Guardado(Deportivo)- Andres Guardado still remains out injured although he is close to coming back. His return had been mentioned for this weekend's clash against Racing Santander, which Depor beat 5-3, but in the end he was left out of te team.

Hugo Sanchez(Almeria)-Almeria lost this weekend 2-1 against Sevilla. Had a dodgy penalty in favor of Sevilla not been called the game might have ended on level terms.
England
Carlos Vela(Arsenal)-Carlos Vela started the game against Burnley in the FA cup. He played well and got a spectacular goal. He nutmegged a defender and chipped in a good goal holding off a couple of defenders more. A great finish that screams "put me on the field!" more and more. Carlos has possible Champions League Action midweek against Roma.


Giovanni Dos Santos(Tottenham)- Giovanni wasn't called up to play as his team drew 1-1 against Sunderland.
Germany

Ricardo Osorio(Stuttgart)- Osorio played all 90 mins in Stuttgart's 2-1 win over Dorussia Dortmund. He also had a shot on goal and Stuttgart sit 6th in the table.
Netherlands

Carlos Salcido(PSV)- Salcido played all 90 mins against Twente. The teams drew at 1-1.

strong>Maza Rodriguez(PSV)- Maza played 4 minutes in the game against Twente.

Hector Moreno(AZ Alkaamar)- AZ Alkaamar continue their dominance in the Eredivisie as they won once again this weekend against NEC Nijmegen. They sit at the top with an 11 point cushion.
Turkey

Antonio De Nigris(Ankaragucu)- De Nigris played all 90 mins but he failed to find the net against Genclerbirligi. His team lost 2-0, but are out of the Turkish relegation zone.
Ukraine

Nery Castillo(Shaktar)- Castillo remains out injured, but Shaktar won 1-0 against Dnipro.
Subscribe

Mexico World Cup Team Blog RSS Feed

Share
blog comments powered by Disqus