Nestor de la Torre resigns
October 12th, 2010 | by: Andrea |

View Comments
Nestor de la Torres resigned Monday night as the Director of the national teams.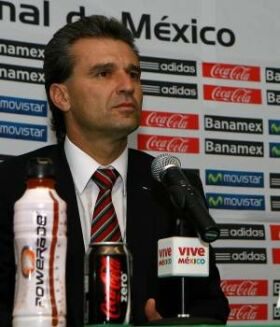 This comes after several reports stating that the players were displeased due to the discipline regulations within the national team brought to light after the game against Colombia in Monterrey on September 8, 2010.
After the game several players participated in a get together at the hotel. As a result, 11 players were fined $50,000 pesos and Carlos Vela and Efrain Juarez received a six-month suspension from the national team.
Unconformity with de la Torre surfaced via a letter from the players stating that they were displeased with how the situation was handled.
In the letter they asked to be left off the national team until internal matters were resolved.
Previous to the game in Cuidad Juarez on Tuesday, the national team players and the federation met to try and resolve the issue.
According to de la Torre, he was asked to publicly apologize and he refused. That brought him to his decision.
Now, Nestor de la Torre has resigned from his post.

Some highlights of his press conference…
On carrying out rules…
"That's what I've worked for since I took charge. I took my responsibility with the risk of not being the best-liked person or the most popular. I'm aware of the fact that order and discipline have to rule in these businesses. I haven't done it because of stubbornness, but as to try and change habits and customs."
On why he resigned…
"It's important at an institution to respect authorities. When they are ignored, faith is lost and that is why I am making this decision."
On not negotiating with the NT players on the situation…
"No one forced be to come to this solution. No one has pushed me to where I am. The choice was clear, there was no offer. I'm not willing to accept conditions put forth by the national team to come and play, to sit around a table and come to an agreement. When there is no respect, everything is lost.
"Representing your country should be with honor, discipline, and pride. There needs to be a deep change for results to come and one day for us to see Mexican football in the place it deserves."
On disciplinary problems in the past within the youth teams…
"The U-17 had a discipline problem; he was punished and signaled out(Martin Galvan). The U-20 had five players that defied rules and it was also known who they were, what they did, and what the punishment was.
Are you happy Nestor de la Torre resigned?
Subscribe

Mexico World Cup Team Blog RSS Feed

Share
blog comments powered by Disqus