Call Ups For Bolivia
March 6th, 2009 | by: Andrea |

View Comments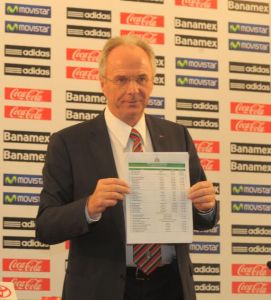 The time has come for the call-ups for the Bolivia game on March 11th. As you may notice No Chivas players have been called up. This is because Chivas will be playing in the Copa Libertadores and are still in the running for qualification for the next round. Although San Luis are also in the group stages, their players were available because FEMEXFUT decided that their bid into the next round wasn't as strong. So the squad plus 3 naturalized players….
No. Name Club Position
1 Francisco Guillermo Ochoa América Goalkeeper
2 José de Jesús Corona Tecos UAG Goalkeeper
3 Oscar Rojas América Defender
4 Paúl Águilar Pachuca Defender
5 Leobardo López Pachuca Defender
6 Juan Carlos Valenzuela América Defender
7 Julio Cesar Domínguez Cruz Azul Defender
8 Hugo Ayala Atlas Defender
9 Edgar Castillo América Defender
10 Fausto Pinto Cruz Azul Defender
11 Israel Martínez San Luis Midfielder
12 Fernando Arce Santos Midfielder
13 Gerardo Torrado Cruz Azul Midfielder
14 Leandro Augusto UNAM Midfielder
15 Pavel Pardo América Midfielder
16 Luis Pérez Monterrey Midfielder
17 Antonio Naelson Sinha Toluca Midfielder
18 José María Cárdenas Pachuca Forward
19 Cesar Villaluz Cruz Azul Forward
20 Omar Bravo Tigres Forward
21 Vicente Matías Vuoso Santos Forward
22 Sergio Santana Toluca Forward
And because this is just a friendly match, no European based players have been called up.
Subscribe

Mexico World Cup Team Blog RSS Feed

Share
blog comments powered by Disqus